Our plastic products are often the ideal replacement or alternative for products made of wood, metal or concrete. Plastics are ideally suited for use in industrial and logistic applications. This is due to the combination of properties and characteristics such as; shock- and impact resistance, load bearing capacity, flexibility and weather resistance. Plastics are also moisture-proof, which means they will not absorb any liquids (like many wooden products do) and remain hygienic for that reason.
We provide customer-specific tailored products. Our technology and plastics expertise, combined with creative ideas enables us to realise sustainable and innovative solutions.

Lankhorst can process both commodity plastics (amongst others: LDPE, HDPE and PP) and engineering plastics (amongst others: PA, PU). It is about finding an optimal balance between customers' requirements such as impact- and heat resistance and stiffness.

If possible, Lankhorst uses high quality recycled materials to reduce costs and save the environment. With a diverse range of production machines Lankhorst can handle a large variety of wall thicknesses and shot weights. Wall thickness varies from 5-250 mm. Starting with a shot weight from 0,5 kg. The product weight can go up to as high as 250 kg!
Lankhorst carries out a range of tests on the unprocessed raw materials, production samples and end products to ensure a consistent quality throughout the manufacturing process. These tests are all carried out using our fully calibrated in-house laboratory and testing equipment. The tests on raw materials and production samples include humidity checks, melt flow index measurements, tensile properties and impact tests.
To date, Lankhorst are proud to say they have provided many customers with custom plastic molding solutions that they had been searching for, yet had been unable to obtain from other sources. The know-how and expertise within the company as well as modern design tools allow Lankhorst Mouldings to monitor the entire process from concept to delivery.

Contact us
From idea to product
From idea to product: An example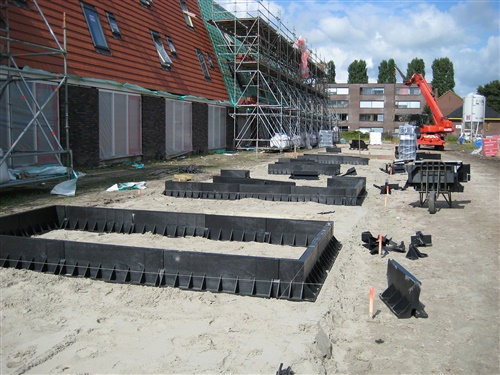 Idea
Due to stricter health legislation, a customer searched for an alternative for the heavy concrete foundation blocks that are used to build the foundation of garden sheds. In close-cooperation with this customer, Lankhorst designed a solution in plastic that weighs only 8 kg instead of the 40 kg concrete alternative.

Demands
Together with our customer a list of demands was put together to ensure an effective design process.
CAD drawing and finite element analysis
CAD drawings were drawn and calculations using FEM-analysis were made to ensure the product met all its requirements.

Testing phase
During a testing day a foundation was laid out and a garden shed was built with products that were manufactured out of plastic plates.

Feed back

The testing of the prototype was evaluated and some small improvements were made before building the mould.

Mould design
After finishing the product design the mould was designed using mould flow analysis as a tool to ensure a problem free production.
Supply end products
After a successful market introduction the patented plastic foundations are now used for over 80% of the garden sheds that are sold by our customer.
Industries
Steel Industry
Their products are found everywhere where heavy coils need storage or transportation. Products Lankhorst have developed include Rollblocks, Rollstops, Rollcradles, Rollpallets and Storageblocks.
Offshore Industry
Lankhorst provides engineered plastic products for sub sea risers and flow lines. Products Lankhorst have developed include Piggy Back Blocks, Fix Flex, Riser Fins, VIV- Strakes, Anode Tapers and many more.

Flexo graphical Industry
For the packaging industry Lankhorst has developed a HACCP- approved plastic carrier. Being flexible and hygienic, the reelcarriers have none of the shortcomings that wooden products have. They do not splinter, absorb no moisture and have no nails. These plastic pallets are available in four different types.
Sewer system Industry
Lankhorst has developed sewer manholes for a large company in sewer systems. A complete tailored system for the use under ground: a solid and perfect solution. These manholes are unique in their size
and design.

Rescue products Industry
A true example of the strength and reliability of our plastic products are the product series for the rescue market. These rescue products are used to stabilise vehicles after car crashes and are capable of bearing enormous loads.
Civil and Construction Engineering
From day one Lankhorst has supplied plastic products for various civil and construction engineering applications such as retaining walls, marine decking, plastic bridges, marine fenders, sheet piling etc.
Rail Industry
The ban on creosote was one of the reasons for Lankhorst to develop sleepers made out of recycled plastics. These sleepers are maintenance free and have a lifespan of over 50 years.

Pipe Storage
For safe and efficient storage of pipes Lankhorst offers FixFLEX pipe carriers and PipeStop Systems.
Plastic Sheet Applications
Ekon, part of Lankhorst, is the leading producer of polyethylene (PE) and polypropylene (PP) sheet material through the flat-dieextrusion process. These plastic products are used in diverse markets including animal keeping, civil engineering, construction, packaging and automotive.